The City of Vienna
Located in the heart of Europe, Vienna is the capital and by far the largest city of Austria, the landlocked alpine country between Italy and Slovenia to the South, Hungary, Slovakia and the Czech Republic to the East, Switzerland to the West and Germany to the North.
Vienna lies in the Danube valley to the East of Austria, surrounded by the Wienerwald hills in the West and North, the wine-growing Thermenregion to the South as well as fertile farmland of the Marchfeld to the East.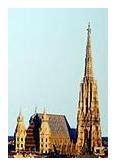 This city of around 1.8 million (2.3 million within the metropolitan area, making it the 10th largest city of the European Union) is known to have one of the highest qualities of living worldwide.
Once it used to be the center of the vast Austro-Hungarian empire. Remnants of these times can be found all around the city, ranging from magnificent palaces and museums to large parks and monuments.
Due to this fact, the famous historic Vienna city centre (located in the 1st district) was designated a UNESCO world heritage site in 2001.
Owing to a long and fascinating history Vienna offers an immense variety of sights to be discovered. Make sure to take plenty of time as unfortunately a few days might be not be be sufficient to visit all relevant sights in this city.
Make sure to enjoy your stay in Vienna and to bring the right souvenirs back to your loved ones at home!